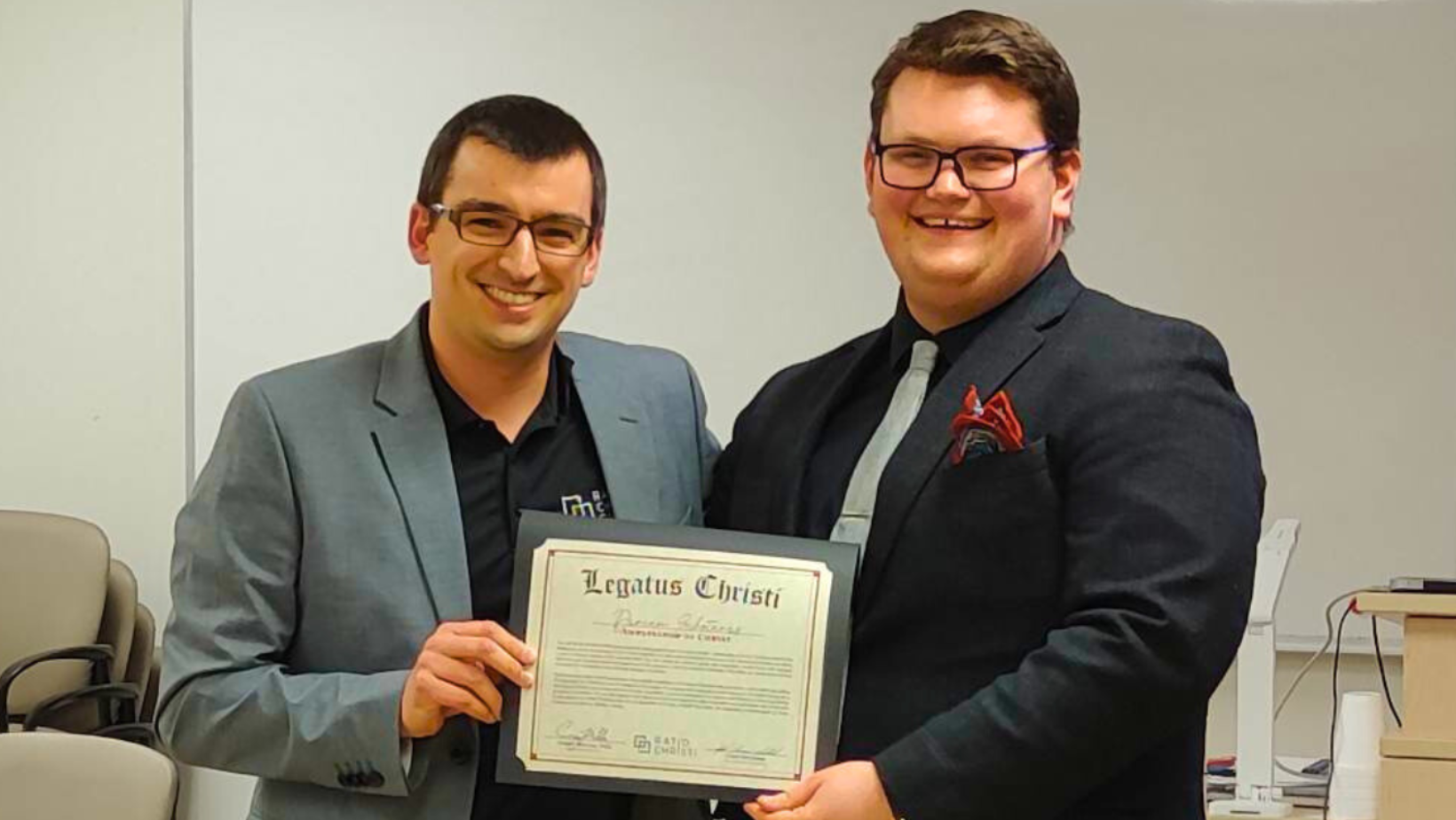 Ratio Christi at Crandall University is pleased to award our ministry's honorary Legatus Christi certificate to Duncan Schotanus!
Duncan will be graduating from Crandall University with both a Bachelor of Science in biology as well as a Bachelor of Theology (offered in partnership with Acadia Divinity College). He's been heavily involved with student ministries and other aspects of campus life, and he's spent the past year serving as President for the university's Ratio Christi club.
It brought much pleasure to RC at CU's Chapter Director, Cody Guitard, to award Duncan the Legatus Christi certificate just before the student group played its annual round of "Apologetics Jeopardy." (Which, by the way, Duncan happened to win first place!) "Duncan has really helped to set the tone for many of our group discussions over the last few years," says Cody. "The level of thoughtfulness and good-spiritedness he brings to the table rubs off on others, and he's always impressed me with how prepared he comes to discuss the topics at hand. It's happened more than once that he would come to a discussion more informed on the issue than I was!"
Duncan was kind enough to answer some questions for us as he reflected on his time as a Ratio Christi student and his reception of the Legatus Christi certificate.
1 – When did you come to Christ as Lord and Saviour, and how did that come about?
I came to the Lord Jesus Christ in my late teens—when I was 17 years old, to be precise—after battling with depression for just over a year. It was through my year of depression that I sought a deeper meaning in my life, and I found that meaning in Christ. Jesus found me in my searching and I have dedicated my life to him ever since.
2 – How did you become interested in apologetics, and how did you get involved with Ratio Christi?
I became interested in apologetics while initially exploring my faith in Jesus. Before I became a Christian, I found online apologetics resources that directed me to the truth found in Christ. I first became connected to Ratio Christi in particular through their campus chapter at Crandall University, specifically during the university's freshman orientation week. In hindsight, it was pretty comical.
I remember asking the student leaders what the requirements were for me to join the weekly meetings. They're open to anyone interested, but I thought I had to be invited first. I was mistakenly left with the impression that Ratio Christi was essentially some elite campus club to which you had to be secretly invited once some wise unknown council watching me throughout my studies saw me fit to be graced with the knowledge of Ratio Christi apologetics! I was immediately impressed and decided to go to the first meeting anyway to ask what I needed to do to prove myself worthy. (And yes, the very real possibility crossed my mind that I would immediately be kicked out for not being "ready" yet.)
Thankfully, the whole thing was a massive misunderstanding and I, along with every other student, was welcomed with open arms! I then began attending Ratio Christi meetings regularly.
3 – What impact has the Ratio Christi ministry on your campus had on your walk with God and your personal ministry?
Ratio Christi has equipped me with resources to better understand (both intellectually and practically) and defend my faith. The ministry has strengthened my relationship with Jesus and has providing me the tools I needed to clearly and thoughtfully explain to others the reasons why I believe.
4 – What does receiving the Legatus Christi certificate mean to you?
The Legatus Christi award has a two-fold meaning for me. In the first place, it's a recognition of my personal growth area of understating and applying apologetics. It also emphasizes my responsibility to provide a reasoned defense of the hope I have In Jesus for all who need to hear. It's a commissioning, a responsibility to give the reason why I believe what I do to those who need the same hope that I've been given.
5 – How do you envision taking the apologetics you have learned through Ratio Christi into your future endeavors?
I plan on taking further advanced studies in Christian apologetics. My dream would be to do apologetics vocationally, maybe even with Ratio Christi! I love the idea of serving with the Ratio Christi chapter in which I participated as a student, or maybe even starting a new chapter somewhere else. I could see myself getting involved with some other apologetics ministries too.
6 – What would you say to other students who might be considering getting involved in Ratio Christi, whether they be skeptics, seekers, or believers?
No matter where you're coming from in your walk of faith, Ratio Christi is a proven testing ground for someone to explore Christianity in a safe environment. During these last four years at Ratio Christi, from my very first time there to my last, I learned how to understand and think about my faith more deeply than I ever had before. I have no doubt that the same will happen for you. Not only will you learn plenty about the Christian faith, but Ratio Christi will be a springboard for you to go and share that faith within a much wider world.
Congratulations, Duncan!
It's always exciting to see passionate students like Duncan go through our campus ministries and come out the other end ready to be effective ambassadors of Christ in the world. Students like him are the reason Ratio Christi awards the Legatus Christi certificate. Congratulations, Duncan!
Please keep Duncan in your prayers as he continues to love and serve God and others with all his mind.